26 Nov, 2015
Maggi noodles return to shelves to hungry welcome
Maggi noodles are back on the shelves, and disappearing quickly as Maggi two-minute noodle lovers are returning to their favourite brand discarding the substitutes they had purchased in the past few months.
"The response is great, people prefer buying small
packets of Maggi and the product is bought at a fast pace," said Olga Braganza, who sells the product at her shop in Mapusa. Nestle India Ltd has commenced manufacturing variants of Maggi instant noodles at its Maulinguem, Bicholim plant after the product cleared mandated tests at three government laboratories.
The noodles had been taken off the shelves after
excess lead had been found in the product. Their return has come as a huge relief to all Maggi lovers.
"It has become the latest trend since Maggi has turned into a lost-and-found celebrity among youth.
The brand has been in many homes and a part of a lot of people's happiness. We all knew that Maggi would eventually come back with a bang," said Ojas Raman, a student of Chowgule College.
The company is also leaving no stone unturned to push its brand back in the market as it has launched an advertisement with an emotional appeal that proclaims Maggi has always been safe. This is perhaps working.
"Maggi has gone viral within two days of its return. The box of Maggi delivered in the morning gets over by afternoon. This is how much everyone loves Maggi," Chhotelal Gupta, a shopkeeper in Panjim, said. On an average three boxes per shop are distributed at present and the company has retained the price.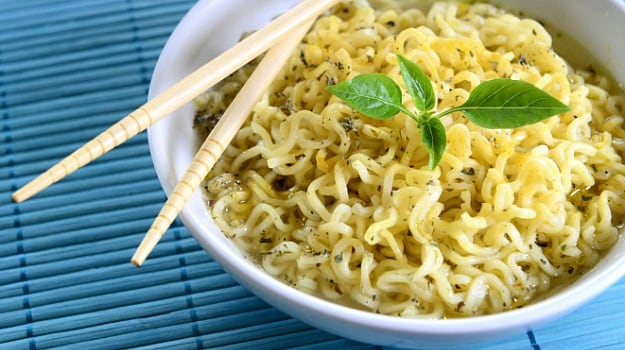 Social networking sites too are abuzz with the latest development terming it as 'Maggi returns' with youth posting selfies with packets of Maggi noodles.
The noodles continue to be tagged as the fastest, easiest and tastiest food product for consumption. "When you live at a hostel, far from home, Maggi is your only solution for hunger. It was bad news when Maggi was banned, but now everything will be back in place since it has returned. Maggi has saved us. The day it came in the stores, I bought it immediately," said Aliston Rodrigues, a resident of Margao.
Working women who have limited time to cook have also welcomed the return of the noodles. "I have been consuming Maggi from a long time and never found anything wrong health wise. I never believed that Maggi wasn't safe and now that it has returned, it's a huge relief for working women, who also handle the household," said Sarah Baptista, a teacher at Margao's Loyola High School.