Statue of Lady Justice unveiled at Mohali law institute
Tribune News Service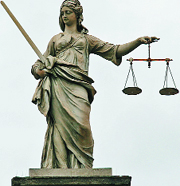 Chandigarh, August 3
A 13-feet-tall statue of the Lady Justice, imagined to extend a sentiment peace and equity, was uncovered at the Army Institute of Law (AIL) at Mohali today by General Officer Commanding-in-Chief Western Command Lt Gen SR Ghosh.
The Lady Justice, the Roman goddess of equity, is a symbolic embodiment of the ethical power in legal framework. The embodiment of equity, adjusting the sizes of truth and decency goes back to old Egypt and the Goddess Maat and later Isis. Her cutting edge iconography, which embellishes the courts, conflates the qualities of a few goddesses.
The Lady Justice delineates equity as furnished with three images; a sword symbolizing the court's coercive force, a human scale weighing contending claims in every hand and a blindfold demonstrating absence of bias.
Understudies of the AIL exhibited a social program that incorporates mono and gathering move exhibitions, a short play titled "The Proposal of Anton Chekhov" and a varying media presentation on the history and accomplishments of the AIL.
Lt Gen Ghosh collaborated with the understudies and congratulated them for their exemplary execution. He likewise introduced the Tata Merit and Abhimanyu grants.
The Tata Merit Scholarship was granted to Deepika Doot, Devrath Singh and Sadhana Rashmi Perumal for securing the primary rank in I, II and III year of BA LLB separately. They got Rs 20,000 each. Tuhina Srivastava, Phaguni Nilesh Lal and Shivika Chaudhary got Rs 10,000 each to secure the second position in I, II and III year separately. The Abhimanyu Scholarship was given to Mohammad Sohail Ali and Khemender Singh for garnish in the Law Entrance Test for the 2009-10 and 2010-11 sessions, individually.
Source: www.tribuneindia.com/2011/20110804/cth1.htm